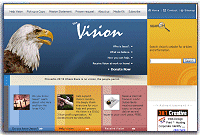 Vision Newspaper is available Online!
We created an impressive, clean, easy to maneuver online presence for "Vision," an El Paso based newspaper. Can't find anymore issues around town? Read it online!

Launch Site
The goal for most of us is a larger profit in 2008. Achieving this on the Internet is possible regardless of your budget or even our current economy. How? By making your website more effective.
September 2006 Nielsen Net Ratings showed that there are over 1,086,250,903 people on the Internet; 69.1% are in North America alone!
Chances are that you, or someone close to you, knows someone who designs websites as a hobby. Maybe it's a niece, cousin or friend. The main factor with your website being designed is the question "will my website be seen?" You may have had your website for over a year and have yet to make a sale or profit, this is where 3N1 Creative Ltd. Co. comes in. Not only do we design eye-catching websites, we also make them effective and "found." This combination will create more customers from your website, either online, by phone or in person.
Your website is your store front to the world! It's an investment, not an expense. Choosing the right designer for your website is choosing a partner that has your interest and success as their goal. YOUR success is our goal. 3N1 Creative Ltd. Co. has been building websites since 1992. We are professionals and knowledgeable on the Internet and how to draw in customers.
We are members of the Better Business Bureau. 3N1 Creative Ltd. Co. CEO, Dr. Desiree Renaud, is listed in the "Cambridge Who's Who".
Why we succeed in helping you succeed:
At 3N1 Creative Ltd. Co. we believe that old-fashioned customer service and job security go hand-in-hand. Our team members are given lifetime employment and will never have to explain to their families how their jobs were given to someone else, or how their jobs moved outside of the United States. We believe that our security makes us the strongest company to support you and concentrate on your needs, goals and dreams.
When you honor us with helping your business succeed, you are given a team member that will be in contact with you from that time forward. You will never have to worry about your account, or being transferred from person to person; we stay one on one with you every step of the way. Also, If you decide at any time, whether it's one, two, three or even ten years later that you would like something changed, your personal team member will be available for you. You will not have to worry about waiting for us to dig through files or a large customer database. Your personal team member will have your account data available at his or her fingertips, and within his or her memory. You are extremely important to us, and your individualized care and complete satisfaction is our main objective.